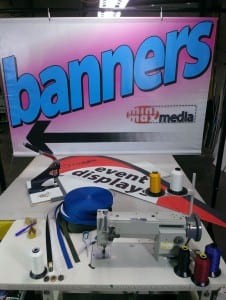 Industrial Sewing
We offer in-house industrial sewing services using UV durable threads and super strong webbing for hem reinforcing
Grommetting
We also offer a range of fastening solutions using grometts in two sizes and three colours, gold, silver or black.
 
Laminating
MiniMax Media carries both film and liquid laminates, depending on the need, using either hot or cold processes in sizes up to 64 inches (by any reasonable length).
We inventory a wide range of film products from 3mm Gloss or Matte to Sand Textured, UV, Automotive grade, Dry Erase and Anti-Graffiti films.